Izzy spent the next few years studying music and taking voice lessons. "I would be listening to bands most people my age had never even heard of: I was into Public Image Limited and the Ramones, Walter Carlos (back when he
was
Walter Carlos) and Mike Oldfield...just the weirdest collection of people, but it was just incredible music for me to tap into. I was always encouraged to discover music that turned me on."
In the last few years, Izzy has been making a name for herself on the Toronto music scene. The first step in this process was Devil May Cry (DMC), a partnership she formed with a high-school friend. Of that collaboration, Izzy explains: " It was a sound I'd never heard before. I was given a blank slate to work with, and I was given free license to come up with lyrics, melodies, vocals- anything I wanted." The music, best described as industrial/goth, was made available on mp3.com, and DMC received enthusiastic feedback from the international online music community, gaining over 20,000 plays before the popular forum was shut down. "To this day, I get e-mails about Devil May Cry," she says. "It's gratifying. Fans are the only reason to do this: to know you're reaching somebody, to know you're giving them some form of escape, is the greatest feeling in the world."
Izzy explains that she soon began to feel limited by her DMC collaborations, however. "I could never feel the same passion for industrial music as I do for rock and roll. Most of the music in that genre (Electronica) is created primarily out of loops and samples. It doesn't need live contact, or actual instruments. I need those things: the live interaction. Ultimately, I need the old school camaraderie- I need the live performance aspect."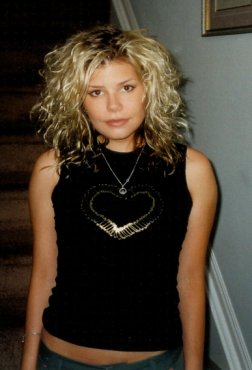 Izzy began looking for other projects, and soon found Tony Rabaolo, of Joy Drop fame. Rabaolo, wanting to expand musically himself, was looking for a singer to collaborate with. After a lengthy search, Rabaolo chose Izzy for his project. "It was a big deal for me because it allowed me to work with some really seasoned, signed, musicians on the current scene. It taught me a lot of things about working in studios, spending hours perfecting my craft: it taught me discipline, and, overall, the experience was a great stepping stone." This was her first experience representing and performing another artist's music, and Izzy saw it as a great opportunity to expand. After 3 years of performing live and in the studio with Rabaolo and his band, however, Izzy increasingly felt the need to continue on in her own search for creativity, and put the Rabaolo project to rest.
These days, Izzy is still looking for the perfect band while working on projects around town. Inspired by the garage rock revolution, her current inspirations range from Little Steven and Kate Bush to the unique vocal stylings of Crispin Glover. In her spare time, she enjoys studying rock and roll and it's history. "This is definitely what I need to be doing," she says. "It's frustrating and unpredictable, but there's no better feeling than standing up on that stage, and seeing that people appreciate what you're doing. I want to be part of a scene that's bringing back what is real and genuine about music, and live performance."
In August 2004, three new original tracks were recorded in collaboration with former December band-mate, Michael Kessler. The sound can be described as a mix of classical, melody driven vocals over spacey guitars, melodic bass-lines, strings and live drums. These tracks have become the basis for Izzy's new band, and together they are continuing to write original tracks to be recorded early in the New Year.
In the meantime, Izzy is content to build her audience, one member at a time. Starting in early 2005, she will be performing regularly around town with her band, and hopes to use her music to generate positivity and awareness of various humanitarian causes. "It's important for me to contribute where I can," she explains. "I'm happiest when I get to help out doing what I love."